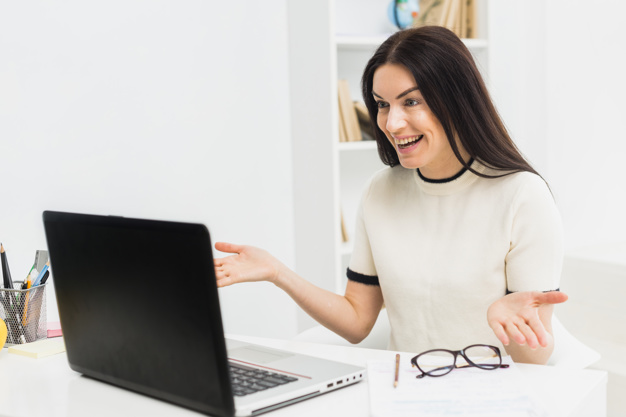 Best & comfortable outfit looks for your video meetings
Published on 2020-09-06 16:49:43 Arafa design
COVID-19 has changed the way we work in our profession. Most of the companies have decided to move their workforce to remote working. Thanks to modern technology, working remotely is getting as efficient as working from the office because of video meetings. However, you may have a hard time deciding the outfit for a virtual meeting.
So, here are some of the best outfits for video meeting:
1.Dress according to the work environment:
It is advised that you wear your outfit for video meetings as per the work environment or work type. For instance, if you are a teacher, you would need to dress if you are in a classroom. If you are a working professional, you need to dress in a similar way as you do for the office. For instance, cardigan and blouse fit well for video conferencing.
2.Choose an outfit for video meeting that isn't oversized or too tight:
Being comfortable is very crucial when you are in a video meeting. Your outfit should put you and viewers at ease. In this way, you can ensure that there is less distraction during video calls. So, you must avoid a sweater if it's too tight or too loose. Either way, it will cause unflattering visuals. For professionals, a jacket is a good option while for a teacher, a cardigan or denim is the best outfit.
3.Avoid strong patterns
Patterns can cause distractions during video meetings. Smaller and denser stripes and checks can add considerable visual distractions. It is better if you choose to wear an outfit for a video meeting that doesn't have strong patterns. Wearing a solid colored top, cardigan, or jacket is considered the best outfit.
4.Prefer colors that flatter you
If you want to present yourself nicely, it's preferable to wear a color that doesn't wash you out. Avoid wearing colors that are pale or similar to your skin tone. The best outfit here can be a light or medium shade of blue, pink, green, or brown.
5.Wear minimum accessories
Wear jewelry that is simple and small. Don't wear big and shiny ornaments as they can be distracting. Try to choose something that goes well with your personality. Earring and a necklace can be a perfect outfit.
6.Prefer a coat during client calls
Client meetings are crucial because every top-level manager is present in it. You wouldn't want to look dull at the special meeting. It's best if you wear a coat or blazer over a shirt of a solid color.
7.Wear conservative outfit
Dress in a way that gives s positive message about your personality. As a rule of thumb, you shouldn't wear tank tops, cut-out tops, crop tops, or strapless tops. Further, clothes with too low-buttoned is a big no too.
8.Dress clean
This probably goes without saying, wear an outfit with no stains, cuts, or holes. Also, no rips or wrinkles, otherwise it will be too distracting and unprofessional to present yourself in video meetings.
9.Dress confidently
Confidence is key during video meetings. It's best to wear an outfit that boosts your confidence and not undermines it. If you are trying something different, ensure that you had a trial run for it before actually wearing it.
10.Wear comfortable clothes in the lower body
You can free to choose what you want to wear below the waist as long as it is not appropriate. A blouse coupled with the skirt won't go well. Of course, the lower body won't be visible but you'll never know when you need to stand up for whatever reason. Also, if you dress well from top to bottom, you'll feel much polished.
To sum up
Once you start choosing your outfit for video meetings systematically, you will become better in decision making. By following these tips, you can be sure to dress for online conferences in a way that boosts your confidence and is suitable for your job profile.